Mini thermal printer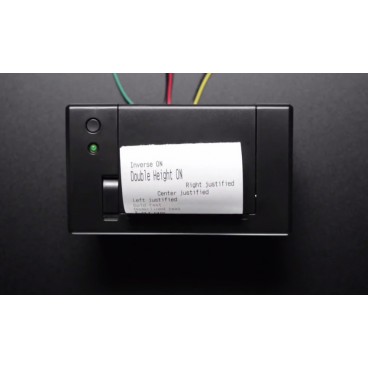 Mini thermal printer
ADA 597
data-lang="en">
A mini thermal printer for your microcontroller based projects.
Customers who bought this product also bought:
More info
Description
Add a small printer to all your projects at base of microcontroller with this mini thermal printer. These printers have often used to print a receipt when shopping. Now, you can use it with your micro-controllers simply with a simple serial TTL 3, 3v - 5V to print text, images, bar codes, or even a QR code.
This product consists of a mini thermal printer including the print head which does not require ink cartridges. Thermal paper is not provided. The printer requires rolls of thermal paper with a width of 2.25 "and an easy commute playtime ' to 50 ft. You must also supply a 5V or 9V DC which can provide 1.5 and more during the peak current during printing, a 5V 2A power supply is perfect for this product. We also suggest you to buy with one or two thermal paper rolls.
We really like this printer because it is easy to print in bold, underlined or reverse-text, spacing line spacing is variable, with some justification to left/center/right and 11 standard bar code bar. It is possible to print images in bitmap format.
Documentation
Features
Requires the 2.25 "of wide thermal paper, 50 ft long or shorter

Requires a power supply 5-9VDC @ 1.5Amp

Print speed: 50-80mm / s

Resolution: 8 points / mm, 384 points / line

Effective print width: 48mm

S: ASCII, GB2312-80 (Chinese) character set

Printing font: ANK: 5 x 7, Chinese: 12 x 24, 24 × 24

Paper type: thermal paper

Paper width: 57.5 ± 0.5 mm

The paper roll diameter: 39mm max

Protocol: TTL, 19200 baud

Average number of cycles before failure: 5 million lines

Dimension (Lxdxh): 111x65x57mm

Black color

Operating temperature: 5 ° C ~ 50 ° C

Operating humidity: 10% ~ 80%

Storage temperature:-20 ° C ~ 60 ° C

Storage humidity: 10% ~ 90%