Electret microphone with amp MAX4466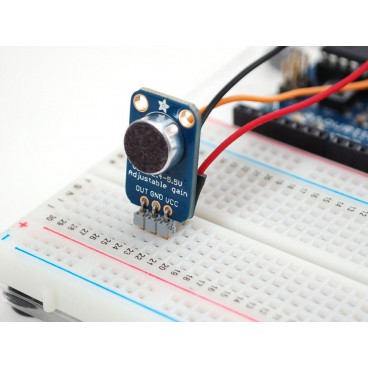 Customers who bought this product also bought:
Sliding scale pricing
| Product | From (qty) | Price |
| --- | --- | --- |
| Electret microphone with amp MAX4466 | 10 | 7,51 € |
More info
Description
Add an ear to your project with this amplified electret microphone. This module is sold assembled and tested with a 20 Hz to 20 kHz welded top microphone. For amplification, it's a Maxim MAX4466, an operational amplifier specifically designed for this task. This amplifier has an excellent food with rejection of noise and sound amplidie is much cleaner than with a classic amplifier.
This breakout module is perfect to make a voice changer, sound recorder or a reagent to the sound via FFT project. On the back a potentiometer was added to finely adjust the gain. Thus, it is possible to change between 25 X and 125 X. Allows to easily getting a low 200mVpp level, to capture a sound spoken at 15 cm distance, which in perfect for line satndar input and a high level of 1Vpp ideal to acquire with an analog input of the micro-controller. The output is "Rail-to-rail", so it can go up to 5VDC, if the sound is very strong.
Usage is very simple, connect GND to the mass, the VCC to a tension between 2, 4V and 5V. For best performance, use less noisy food, for example on Arduino, you can use food 3V3. The sound wave is released on the OUT pin. The output to a level of rest (DC Bias) of VCC/2, which means when cases of complete silence the output to VCC/2 DC. If the entry of your editing requires aternatice AC voltage, it will put a capacitor 100µF between the out and the entry of your editing. If you use an amplifier with differential inputs or with decoupling capacitors, 100 µF capacitor is not required.
The output pin OUT is not designed to drive a speaker directly, you need to use an amplifier as Audio amp class D Stereo 3, 7W - MAX98306. If you use the ADC to a microcontroller, don't worry, you can directly connect the pin OUT on the analog input of your microcontroller.
For projects responsive to arduino-based sound, we recommend the ffft Bookstore who will transform the input frequency signal.
Accessories
The Arduino UNO card is the best seller from Arduino. Simple, effective and cheap.

A small MAX98306 base amp to give power to your audio editing.