DHT11 - Sensor of temperature and humidity digital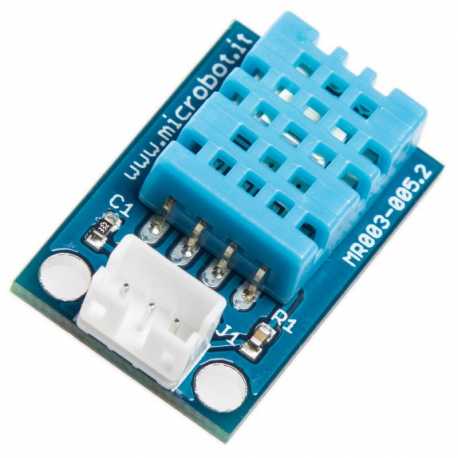 Customers who bought this product also bought:
More info
Description
This breakout card for the DHT11 sensor provides a digital output proportional to the temperature and humidity measured by the sensor. The technology used to produce the DHT11 sensor guarantees high reliability, excellent long-term stability and very fast response time.

Each DHT11 is calibrated with precision in the laboratory. The calibration coefficient is stored in the internal memory of the WBS and this value is used by the sensor's internal signal detection process. The single-wire serial interface allows a quick and easy integration of this sensor into the digital system.

The physical interface of the sensor is realized by a 3-pin connector: +5V, GND and DATA. The first two pins are the power supply and ground and they are used to power the sensor, the third is the digital output signal of the sensor.

Its small physical size (1.05 "x0.7") and very light weight (only 0.1oz) make this card an ideal choice for small robots and room monitoring systems.
Features
Power supply: 5V
Power consumption: 0.5 mA nominal / 2.5 mA maximum
Temperature measuring range: 0°C to 50°C ± 2°C
Measuring range humidity: 20-90%RH ±5%RH
Use with Arduino
Example code Arduino : https://www.microbot.it/sketches/DHT11.zip
Datasheet : https://www.microbot.it/documents/mr003-005-2_datasheet.pdf
Data sheet
| | |
| --- | --- |
| Etendue de mesure | 0°C à 50°C ± 2°C |