Dual DC Motor Shield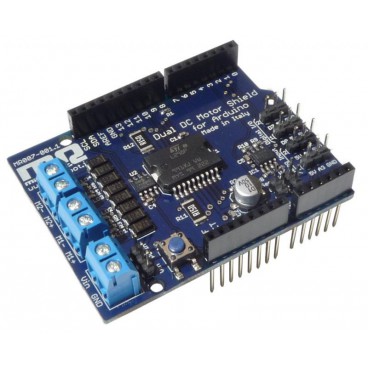 Customers who bought this product also bought:
More info
Description
The Dual DC Motor Shield is a shield that is designed to allow the Arduino to control 2 Motors continuous or a stepper motor (4-wire 2 phases), it is possible to control the speed and direction of rotation of each motor independently.
For some applications that need to control the speed of a motor or the angle of rotation of a moter step by step with a potentiometer, two input/output digital and 2 analog inputs have been deported on the shield.
The analog inputs can be used to read the value of a slider, or any digital analog sensor, while the input/output can be used to control servos or other digital device.
This shield is based on the L298, a driver high voltage and high current with dual H-bridge. To protect the card, each line is protected by diodes in order to avoid the current return. The maximum supply voltage is 48Vcc.
To be sure to work in good conditions, you can measure the power consumed by each engine independently. A probe I2C digital temperature has also been integrated on the map in order to monitor the temperature and avoid overheating.
In reality, the L298 works with with high current, but it can become very hot, and this heat can be spread through the shield, so be careful not to touch it when using. And so it is integresant to monitor the temperature with the TCN75 built on the shield and cable in I2C on SDA and SCL.
The logical pines of the shield are fed voia the Arduino, and motor output are fed via the Arduino wine pine or via an external power supply, we strongly encourage the use of an external power supply. The latter choice is possible via a jumper from selevction for food.
S.h.i.e.l.d. has lED that indicates the direction of rotation of each engine, which very useful to debug because they work even if the engine is not connected.
Attention: The L298 driver can become very hot when he works with more than 1 A!
Features
(Logical) supply voltage: 5V from the Arduino crate

(Logical) supply current: 25mA (typical) 37 (MA)

Supply voltage (engine): maximum 46Vcc

(Engine) output current: 2A maximum per channel

Data I/O voltage: 5V TTL

Operating temperature:-25 ° C to + 125 ° C

Address I2C TCN75A: 1001000 (binary)

Ration of current measurement: 4, 8V to 2A

Dimensions: 2.7 "x 2.1" (68 x 53 mm)

Weight: 0.92 oz (28 g)

Use the pines: D2, D3, D5, D6, D9, D10 (in optional A0 and A1). A4 and A5 for the link monitoring temperature I2C (address 0 x 48)
Accessories
The Arduino UNO card is the best seller from Arduino. Simple, effective and cheap.

A small motor with reducer to learn the stepper motors.

A small 5V with reducer engine to learn the stepper motors.