3.5mm (1/8") Stereo Audio Plug Terminal Block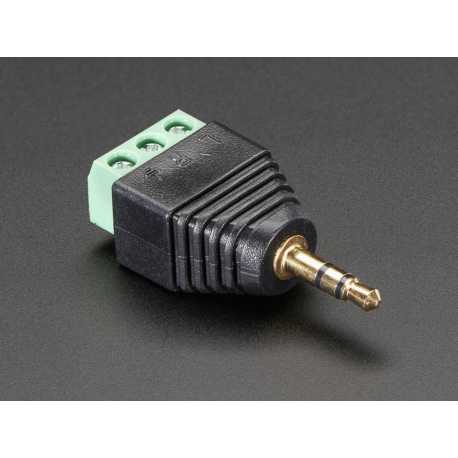 3.5mm (1/8") Stereo Audio Plug Terminal Block
ADA 2790
data-lang="en">
A 3.5mm stereo audio 3.5mm 3-pole audio jack adapter to a 3-point screw terminal block.
Customers who bought this product also bought:
More info
When working with audio, we always lack the ideal cable or adapter in our toolbox. That's why we like this product so much. No welding is required. Use soft or rigid wire with a screwdriver and you can create your own audio termination.

This is a 3.5mm (1/8") 3-Pole Stereo Audio jack with a screw terminal block. It has 3 conductors, 2 for signals and 1 for ground, this connector is often used on most headphones or basic audio connections you are looking to establish.

Features and characteristics

42.2mm x 18.6mm x 18.6mm x 12.7mm / 1.66" x 0.73" x 0.50"
Weight: 8.5g
Accessories
A Jack 3.5 mm TRRS male plug 4-pole to achieve your audio cables...

A cable Audio Jack 3.5 mm Male/female to deport the audio on a boiteir.

An audio jack to add a mono earphone to your project.