Display Clock 7 segments blue 4 digits - 0,56"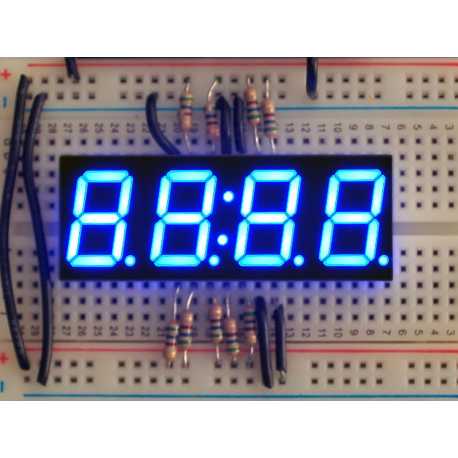 Customers who bought this product also bought:
More info
Design a clock, timer or counter for your next project using our pretty 4-digit display with seven segments. In addition to the four 7-segment displays, there are decimals on each digit and an additional wire for the center two points (ideal for time-based projects).

This display is ultra bright, 125mcd! You can power these with less current to get the same brightness and to save energy, or turn them on up to 20mA and make them really bright.

These screens are multiplexed, with common cathode. This means that you can use a 74HC595 or only 8 microcontroller pins if you want to save them current to control the 8 anodes (7-seg + decimal) at about ~ 15mA each, then connect NPN transistors to the cathodes to flow the 8 * 15mA = ~ 160mA maximum per digit.
Characteristics

This is a common cathode display
Dimensions: 0.76" x 1.9" (19.3mm x 50.3mm)
Weight : 8.3g
Accessories
A 4-digit 7-segment red display ideal for making a clock.