UBEC DC/DC Step-Down (Buck) Converter - 5V - 3A output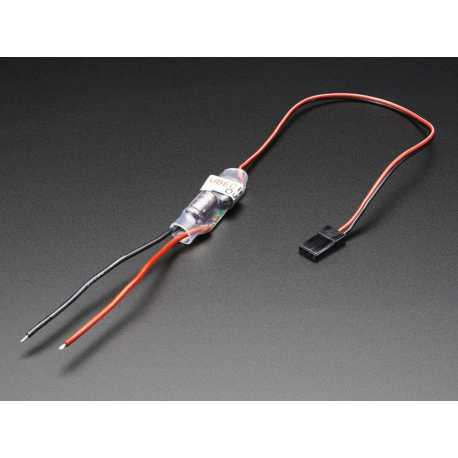 UBEC DC/DC Step-Down (Buck) Converter - 5V - 3A output
ADA 1385
data-lang="en">
A UBEC 5V 3A 5V converter from 6V to 16V.
Customers who bought this product also bought:
More info
Descritption
Your power supply problems have just been solved! This small printed circuit board may sound tiny, but inside there is a high-performance DC/DC converter that can produce up to 3 amperes at 5V without the need for a heat sink or cooling system. (UBEC stands for Universal Battery Eliminator Circuit and this UBEC is designed to replace a 5V power supply in RC aircraft and helicopters, but it is also ideal for any type of microcontroller or electronic project that runs from 5V. We tried half a dozen different CLBs and found it to be the best in terms of reach and stability. You can see the technical tab for the analysis of the input/output range and current draw.

To use it, connect a 6V to 16V (recommended) power source to the IN wires and the 5V will be generated on the OUT wires. A regulated output of 5V (+-5%) from a higher voltage input will be obtained. Output current 3A, see 5A peak - if you try to pull 3A, you will have to give it a little more than 6V, at 7V it works fine. The UBEC has integrated filter capacitors on the input and output, but it is a switched-mode power supply and therefore slightly noisy compared to a linear controller.

We have removed the heat shrinkable from one and found that it contains an MP2307 that you can check the datasheet for conversion efficiency and other specifications.
Caractéristiques
Here are some figures that we found during the assembly of various loads at UBEC:
| | | | |
| --- | --- | --- | --- |
| Iout | Vin | Iin | Vout |
| 0.5A | 6V | 0.47A | 4.9V |
| 0.5A | 7V | 0.39A | 5.2V |
| 0.5A | 9V | 0.35A | 5.2V |
| 0.5A | 12V | 0.28A | 5.25V |
| Iout | Vin | Iin | Vout |
| 1A | 6V | 0.9A | 4.8V |
| 1A | 7V | 0.79A | 5.2V |
| 1A | 9V | 0.67A | 5.1V |
| 1A | 12V | 0.52A | 5.2V |
| Iout | Vin | Iin | Vout |
| 2A | 6V | 1.85A | 4.9V |
| 2A | 7V | 1.67A | 5.1V |
| 2A | 9V | 1.28A | 5.0V |
| 2A | 12V | 0.97A | 4.9V |
| Iout | Vin | Iin | Vout |
| 3A | 7V | 2.6A | 5.0V |
| 3A | 9V | 1.88A | 4.7V |
| 3A | 12V | 1.43A | 4.8V |