Mono 2.5W Class D Audio Amplifiers - PAM8302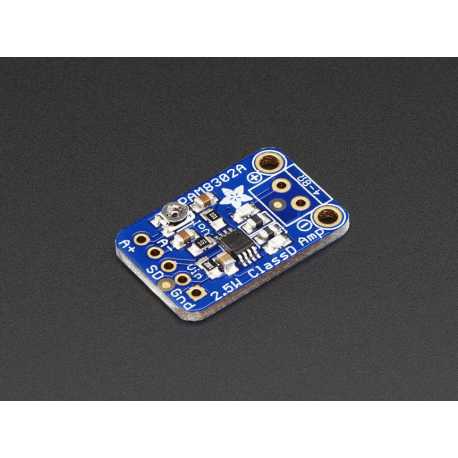 Customers who bought this product also bought:
More info
Description
This mono amplifier is super small but amazingly powerful - capable of delivering up to 2.5 Watts in 4-8 ohm impedance speakers. Inside the miniature circuit, a class D amplifier, capable of operating from 2.0V-5.5VDC. Since the amplifier is class D, it is very efficient (more than 90% efficiency when you connect an 8? speaker to more than half a watt), making it perfect for portable and battery-powered projects. It has thermal protection and overcurrent protection. It even has a volume control knob so you can adjust the volume directly on the board from the default gain of 24 dB.
The amplifier's A+ and A- inputs go through capacitors of 1.0 uF, so they are completely "differential" - if you don't have differential outputs, simply connect the audio pin to earth. The output is "Bridge Tied" - this means that the output pins connect directly to the speaker pins, without ground connection. The output is a 250 KHz high frequency square wave PWM type output that is then "averaged" by the loudspeaker coil - high frequencies will not be heard. All of the above means that you will not be able to connect the output to another amplifier, it should lead directly to speakers.
Delivered fully assembled and tested. We also include a connector for connecting it to a breadboard and 3.5 mm screw terminals so that you can easily connect/disconnect your speaker. Ready to operate in less than 15 minutes! The speaker is not included, use an impedance speaker with an impedance of 4 ohms or more.


Output power: 2.5 W at 4?, 10% THD, 1.5 W at 8?, 10% THD, with 5.5 V power supply
PSRR 50dB to 1KHz
Filterless design, with ferrite + capacitors on outlet.
Fixed gain of 24 dB, adjustable potentiometer to adjust the input volume.
Thermal protection and short circuit / overcurrent protection
Low power consumption: 4mA quiescent and 1uA in off mode
Caractéristiques
Dimensions: 15mm x 24mm x 2mm / 0.6" x 0.9" x 0.08".
Poids: 1.4g
Accessories
A module to achieve sound effects of the totally independently.

An amplifier I2S 3W class D MAX98357A for Raspberry PI or Genuino Zero based.