Battery 6xAA and Jack 2.1 mm connector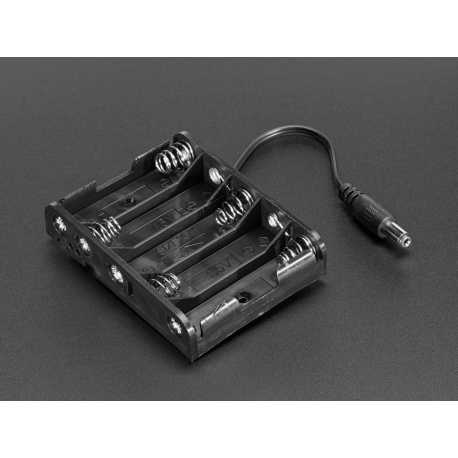 Customers who bought this product also bought:
More info
Description
This battery will allow you to connect 6 batteries type AA in series to achieve a tension between 6V and 9V. It has a launch or switch to cut the power.
Using the type NiMH battery, you will have a voltage of 7, 8V in full load and 6, 6V end of battery, or a nominal voltage 7, 2V. With alkaline batteries, you will have a voltage of 9, 6VV in full load and at the end of battery 6V, either a nominal voltage of 9V.
ideal to power an Arduino board.
A weld is necessary to connect the Jack DC 2.1 mm cable.
Features
Size: 127mm x 71mm x 19mm / 5 "x 2.8" x 0.76 "
Cable: 6 "long / 14 cm Power 2.1 mm male jack connector
Weight: 75g
Accessories
Voltage type 7805 5V regulator

An adapter with DC Jack Power female 2,1mm to screw terminal block