Adafruit Perma-Proto Full - sized Breadboard PCB - Single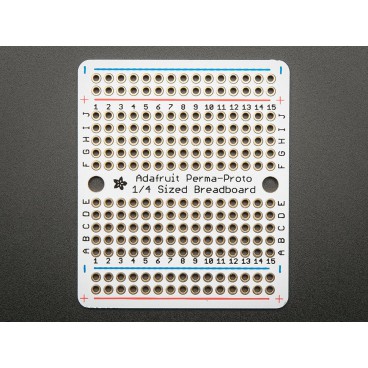 Adafruit Perma-Proto Full - sized Breadboard PCB - Single
ADA 1608
data-lang="en">
Plate with holes prototyping on a breadboard 210 points model.
Estimation de livraison entre le 07/10/2022 et le 09/10/2022
Colissimo Domicile - sans signature

A partir de: 5,45 €
Customers who bought this product also bought:
Sliding scale pricing
| Product | From (qty) | Price |
| --- | --- | --- |
| Adafruit Perma-Proto Full - sized Breadboard PCB - Single | 10 | 3,19 € |
More info
Description
This plate to hole Perma-Proto on the 210 points breadboard model is ideal for reproducing your projects tested on a breadboard because the binding are identical. So just to reproduce your editing on the plate at holes Perma-Proto and solder components above to reproduce your editing in the same way.
The holes were pierced in 1.2 mm in order to accpeter most of standard components and found the breadboard with a balnche silkscreen design and the same benchmarks as well as 4 supply lines.
Features
Equivalent breadboad 210 points

15 double binding 5 points in column colones
4 supply lines marked in positive and negative
Size: 1.7 "x 2.0" (44mm x 55mm), FR4
Drilling: 1.2 mm / 0.047 "
2 mounting hole 0.125 "or 3.2 mm m
Weight: 6g