Micro Servo Tower Pro SG92R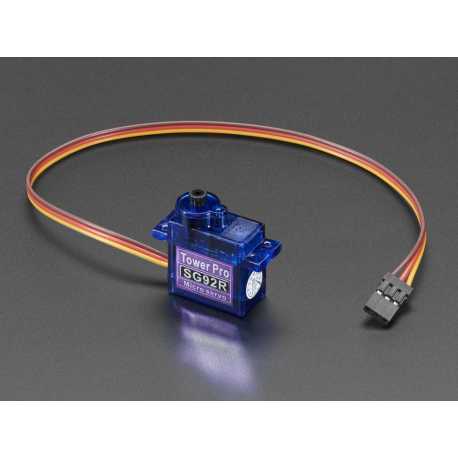 Micro Servo Tower Pro SG92R
ADA 169
data-lang="en">
A micro servo motor to achieve your robototique fixtures.
Customers who bought this product also bought:
Sliding scale pricing
| Product | From (qty) | Price |
| --- | --- | --- |
| Micro Servo Tower Pro SG92R | 10 | 7,02 € |
More info
Description
A small servo can rotate 180 degrees (90 in each direction), and works like the servos of standard types but smaller. You can use any code, material or library to control these servos. Ideal for beginners who want to make a difference without building a motor with feedback control and transmission. Of course, it is not as powerful as a standard servo. Works well with the Motor Shield for Arduino or simply with the Servo library. Comes with some horns and materials.
To control with an Arduino, we suggest to connect the wire control orange to pin 9 or 10 and with the help of the Servo library included with the Arduino IDE. Position "0" (1.5 ms pulse) is in the Middle, "90" (pulse of ~ 2ms) is straight to the right, "-90" (~ 1 ms) is all the way to the left.
Features
Size: 23 x 11 x 29 mm
Voltage: 3V to 6V DC
Weight: 9g / 0.32 oz
Speed: 0.12 sec / 60 (at 4.8 V)
Torque: 1.6 kg - cm
Working temperature:-30 ° C ~ 60 ° C
Socket Teflon wire 19cm, engine without core, arms and screws included