Micro Servo Tower Pro SG90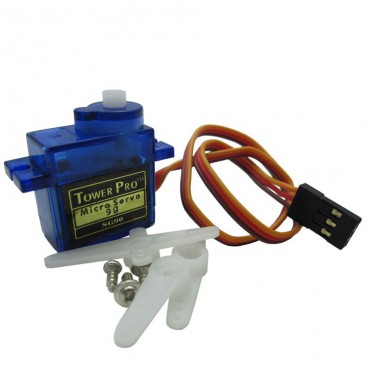 Micro Servo Tower Pro SG90
TPSG90
data-lang="en">
Small Servo Motor economic
Customers who bought this product also bought:
Sliding scale pricing
| Product | From (qty) | Price |
| --- | --- | --- |
| Micro Servo Tower Pro SG90 | 10 | 5,00 € |
More info
Presentation
The Micro Servo Module has a standard connection 3 points.
It is an ideal choice for your Arduino-driven project of robototique and Mechatronics.
Description
The Micro Servo Module consists of an electric motor mechanically linked to a potentiometer. Using the library Servo Library to be able to fly easily this module with an Arduino kit.
The electronics inside the servo-motor turns a PWM pulse in physical position width: when the servo is controlled, the engine will be operated up to the corresponding value of the potentiometer at the required position.
A kit of 3 ends in plastic and a screw is supplied with the sero-engine microphone so you can easily connect it to the mechanical universe.
Features
Modulation: analogue
Force: 4.8V (1.6 kg - cm)
Speed: 4.8V 0.1 sec / 60 °
Weight: 9g
Size: 23mm x 12.2 mm x 29 mm
Angle of rotation: 180 °
Connections: Connector 3 points
Documentation
Arduino library: http://www.Arduino.cc/en/reference/servo
Accessories
The Arduino UNO card is the best seller from Arduino. Simple, effective and cheap.

The Arduino MEGA 2560, based on the ATmega2560 MCU, features a multitude of inputs/outputs.