Mini USB Microphone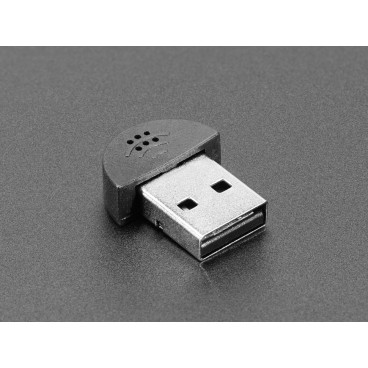 Mini USB Microphone
ADA 3367
data-lang="en">
A very small USB microphone, ideal for Raspberry PI.
Estimation de livraison entre le 08/07/2022 et le 10/07/2022
Colissimo Domicile - sans signature

A partir de: 5,45 €
Customers who bought this product also bought:
More info
Description
It is the smallest USB microphone in the world! OK maybe that is not in the Guinness Record Book, but it's really small! This plug-and-play USB thought needs no driver, and its USB interface allows you to use it with any computer, cell phone, SBC, etc!
It works very well with a Raspberry Pi computer, but you can also use it with any other computer on which you want to record sound. Simply plug it directly and you are ready to start recording your podcast, your song, your audio book or anything else your heart desires!
If you want to use it with a Raspberry Pi, check out this tutorial:
Accessories
A small microphone Electret amplified to give ears to your editing!

A miniature MEMS microphone for your audio editing.

A truly miniature Electret microphone and pre-wired.