Kit of desoudure lead-free SMD and CMS - SMD1NL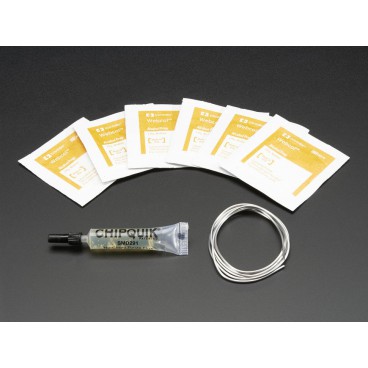 Kit of desoudure lead-free SMD and CMS - SMD1NL
ADA 2668
data-lang="en">
The solution for desoldering SMD or SMD circuit easily.
Customers who bought this product also bought:
More info
Description
Unsolder the SMD components is more complex than to unsolder a resistance. With this product, it will become child's play and without leaving the slightest trace. It uses a special metal alloy that binds to your welding, but remains liquid for a long time so that it can melt on the existing bolts, then remove with Tongs.
It's the version by alloy lead free
.
Here's how to use it in just four steps:
Apply the flow on all drivers of the SMD circuit (using a syringe for convenience)
Weld evenly on all pins SMD
Lift the SMD or drag it SMD circuit
Clean the circuit
The kit includes:
2.5 ft of lead-free alloy
1 x tube no.-Clean Paste workflow
5 x alcohol wipes
PI Sheet
Accessories
A quality 70W with adjustable temperature of 50 ° C soldering station has 480 ° C.

A braid to 2mm wide unsolder without cleaning.