Cable adapter DC Jack 1.3 mm 2.1 mm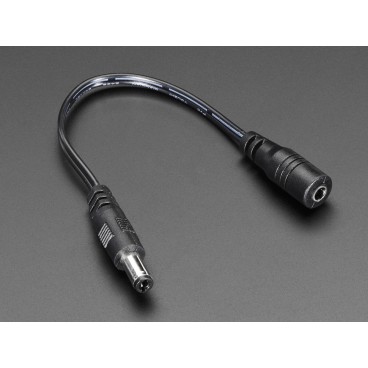 Cable adapter DC Jack 1.3 mm 2.1 mm
ADA 2788
data-lang="en">
A base DC Jack 1.3 mm DC 2.1 mm Jack plug adapter.
Customers who bought this product also bought:
More info
Description
This cable will allow you to transormer a power supply with a DC Jack 1,3 mm in a DC 2.1 mm jack plug plug.
Connectivity 2.1 mm is the most common for the food, but sometimes it is a power supply 1, 3mm, this addaptateur is so made to simplify your life.
Reminder connectivity DC Jack 1,3 mm in inner diameter is 3.5 mm in outside and the 2,1mm in inner diameter is 5.5 mm in outside.
Features
Cable length: 165mm / 6.5 "
Connectivity: DC Jack female 1.3 mm / DC 2.1 mm Male Jack
Accessories
An adapter with DC Jack Power female 2,1mm to screw terminal block

A cable extension with switch and connector DC Power 2.1 mm jack male and female.

An ideal cable to fit a power supply 5V with output Jack Male 2.1 mm to a USB female type prose has.