Piezo 30 mm pre-cable with box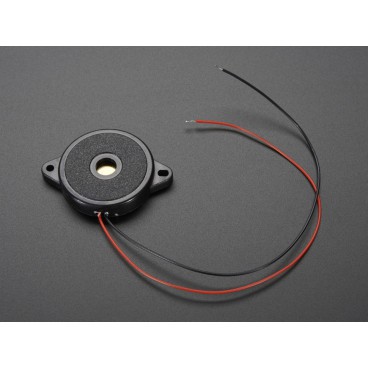 Piezo 30 mm pre-cable with box
ADA 1739
data-lang="en">
Piezoelectric diaphragm with diameter 30mm which can be used in shock sensor or buzzer.
Estimation de livraison entre le 02/07/2022 et le 05/07/2022
Colissimo Domicile - sans signature

A partir de: 5,45 €
Customers who bought this product also bought:
Sliding scale pricing
| Product | From (qty) | Price |
| --- | --- | --- |
| Piezo 30 mm pre-cable with box | 10 | 1,33 € |
| Piezo 30 mm pre-cable with box | 100 | 1,21 € |
More info
Description
This diaphragm with a diameter of 30mm piezo is protected with a plastic case to fix it easily thanks to these two "ears". The sensor piezo can convert a vibration in voltage or a voltage in vibration. This means that you can also use it in like a buzzer to send sounds, the beeps, or as a sensor to detect an impact or shock on the membrane. For example, it can be used as a battery to detect the impulses of the baguette.
It is designed to operate up to 12VDC, but it is possible to use it with the 3V3 or the 5V to get a well audible signal. The piezo is pre-wired with two sons which allows to easily use it on a breadboard.
Features
Recommended voltage: 12VDC
Max voltage: 1-30vdc
Currant nominal (MAX): 3.5MA
Sound output at 10 cm: 85db
Resonance frequency: 1300Hz ± 500 / 4000 Hz ± 500
Operating temperature:-20℃ ~ + 60℃
Dimensions mounting width: 41mm
Diameter: 30mm
Central diameter: 5.7 mm / 0.2 "
Weight: 4.3 g
Documentation:
Jouer of music with the tone on Arduino: Play a Melody using the tone() function
Detecting a vibration with a piezo on Arduino: Knock