ON-OFF button chrome with blue LED Ring - 16mm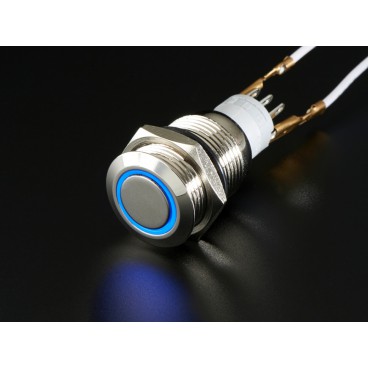 Customers who bought this product also bought:
More info
Description
This metal chrome button is robust and easy to fix, LII just drill a hole 16mm in all material up to 1.2 cm thick. There is also a rubber seal to keep the water out of the alongside.
The front of the key consists of a flat metal actuator, surrounded by "a plastic ring backlit by LED blue. On the back, there are 3 contacts for the button (common, normally open and normally closed) and 2 for the LED of the blue ring (+ and -). Connect a 3V to 6V on the LED to turn it on correctly (the resistance is integrated). If you want to use it with a higher voltage, for example 12V or 24V, simply add a 470 Ohm resistor in series with the connection of the diode to keep the LED current to about 20 my.
This button is a maintained push button, when you tap the contact is made between "normally open" and the common. When you rappuierez desus, the contacts will open again
The switch and the LED are separated, so that you could wire to turn on when it is pressed or vice versa, or what you want
Features
Drilling of the hole diameter: 16mm
Commutateu a: 3A / 250VDC
Contacts: 1 NO, 1 NC
Material: brass chrome
Contact resistance: 50 mOhm
Insulation resistance: > 1000 Mohm
Temperature:-20 ° C to + 55 C
Mechanical life time: > 500000
Duration of electrical life: > 50000
Panel thickness: 1-13mm
Operating pressure: 1.5 to 2.5 N
Race of operation: 2mm
Lamp voltage: 6V
Accessories
A kit of cable quick connection for the buttons of arcades.