Hole plates - Bakelite - Pack of 10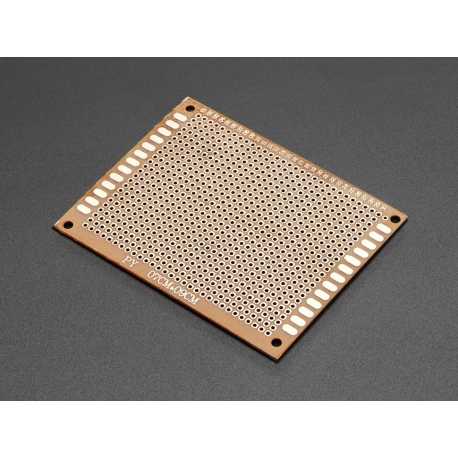 Hole plates - Bakelite - Pack of 10
ADA 2670
data-lang="en">
Bakelite hole plates to make your proto fixtures as you wish.
Customers who bought this product also bought:
More info
Description
Design your next project as you imagine with hole plates that can easily be cut with scissors such as these universal hole plates made of Bakelite!

We wanted a hole plate that was both customizable and durable, and the answer is bakelite. Like most hole plates, these plates are thin (1.2 mm) with holes drilled on a grid, each spaced 0.1 "apart. There are a few more copper pads (for mechanical connections) at both ends. And each individual hole is surrounded by copper on the bottom side.

In contrast to our classic perma-protos or breadboards, there is no default connectivity, so you have complete freedom to set up your circuits. Cut and weld!

Delivered in a pack of 10 for all your prototyping needs!
Features


Holes: 30x24
Distance of mounting holes: 82mm x 62mm / 3.2" x 2.4" / 82mm x 62mm
Dimensions: 70.1mm x 90.8mm x 1.2mm / 2.8 "x 3.6" x 0.05 "/ 2.8" x 3.6
Weight: 8.5g