LED Arcade Button - 30mm Clear Red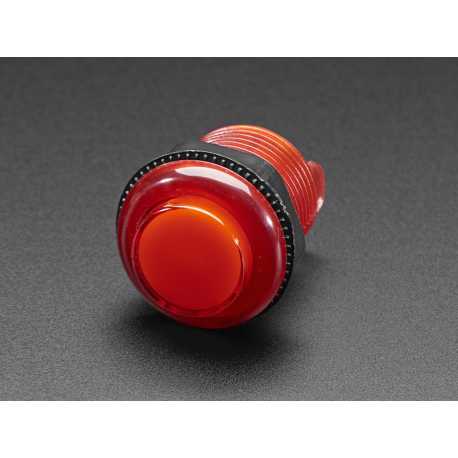 LED Arcade Button - 30mm Clear Red
ADA 3489
data-lang="en">
A 30mm Red Transparent LED arcade button ideal for retro-gaming.
Customers who bought this product also bought:
More info
A button is a button, and a switch is a switch, but these translucent arcade buttons have their own class. Especially because they have integrated LEDs! They are the same size as the arcade controls and require a 30 mm diameter hole for mounting.

The buttons are screwed, so you can use them with a material up to ~ 20 mm thick and cover the hole even if it is not perfectly round and clean. The actuator is smooth, without clicking hard, but you can feel it when you press the button. A small microswitch is pre-installed, with gold-plated contacts.

Even without lighting, they are fantastic: all colours have a brilliant translucent crystal look. As shown, they have two SMD LEDs with integrated resistors, placed in the body of the button. Next to the switch contacts are two additional contacts for powering/controlling the LEDs. Both LEDs are connected in series with a ~ 1K resistor, so that you can power the LED from a microcontroller pin or directly from the 5V (via USB) with a consumption of 5mA.

Note that the red and yellow versions of these LEDs cannot operate at 3.3V as the LEDs are standard! 5V or more is required.

This product is the translucent red version of our 30 mm LED arcade buttons.
Caractéristiques
Power : 5V @ 5mA

Poids : 14,6g
Accessories
An Arcade giant red button ideal for fair eun bumper.

A kit of cable quick connection for the buttons of arcades.

A mini LED arcade button LED m- 24mm Transparent Yellow ideal for retro-gaming.