Adafruit Ultimate GPS with USB - 66 channel w/10 Hz updates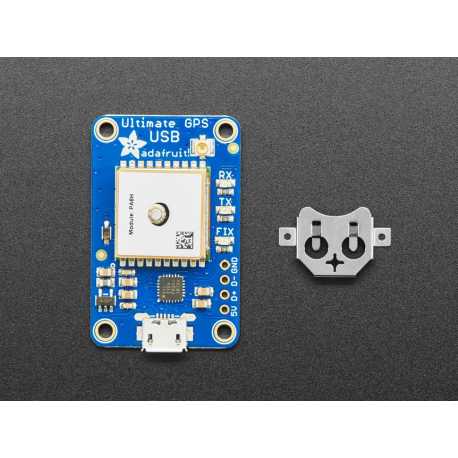 More info
The Ultimate GPS module that you know and love has an extension that makes it easy to use with any computer, not just microcontrollers! With the built-in USB-to-serial converter, you can now connect the Ultimate GPS to your computer, laptop, built-in Linux computer, and more. Power supply and data transport via any micro USB cable, with convenient on-board LED indicators that tell you the status of the fasteners and whether data is received and transmitted.
We think it's the Ultimate USB GPS module, that's why we call it that. There's everything you want and more:
Sensitivity -165 dBm, updated 10 Hz, 66 channels
USB plug and play with integrated USB-to-Series CP2104 converter.
PPS output on the serial control pin RI (Ring Indicator)
Micro B USB connector + two mounting holes
Only 25mA of absorbed current
Compatible with PSTN batteries
Integrated data logging
Internal patch antenna + u.FL connector for external active antenna
Fixed status LED + UART activity LED
The map is built around the MTK3339 chipset, a high quality GPS module that can track up to 22 satellites on 66 channels, has an excellent high sensitivity receiver (-165 dBm tracking!), and an integrated antenna. It can perform up to 10 location updates per second for high-speed, high-sensitivity recording or tracking. The power consumption is incredibly low, only ~25 mA during navigation.
We've added all the additional benefits you may want: a 4-pin USB plug for direct soldering or connection to a USB host, two yellow receiver/transmitter LEDs to inform you when data is being transmitted to or from the GPS module's serial interface, an optional CR1220 battery footprint to keep the PSTN running and allow hot starts and a small bright red LED. The LED flashes at about 1 Hz during the satellite search and flashes once every 15 seconds when a marker is found to save power. If you want to have a LED permanently on, we also provide the FIX signal on a pin so that you can put an external LED on.
Two features that really stand out from the module based on version 3 MTK3339 are the external antenna functionality and the integrated data recording capability. The module is equipped with a standard ceramic patch antenna that gives it a sensitivity of -165 dBm, but if you want to have a larger antenna, you can connect any active 3V GPS antenna via the uFL connector. The module automatically detects the active antenna and switches! Most GPS antennas use SMA connectors, so you can choose one of our uFL to SMA adapters.
Comes with a fully assembled and tested module and a CR1220 battery holder. A CR1220 battery is not included, but we have it in store if you want to use GPS's RTC
For use with a computer, use any GPS software or serial monitor software, at a default serial speed of 9600 bauds. You will immediately get the data on the serial port once it is connected. If you want to analyze the data in Python 3, we have an example code for our CircuitPython library that uses pyserial
Features and characteristics

Satellites: 22 monitoring, 66 research
Patch antenna size: 15mm x 15mm x 15mm x 4mm
Update rate: 1 to 10 Hz
Position accuracy: < 3 meters (all GPS technology has an accuracy of about 3m)
Speed accuracy: 0.1 meter/second
Hot/cold start: 34 seconds
Acquisition sensitivity: -145 dBm
Tracking sensitivity: -165 dBm
Maximum speed: 515m/s
Wine Range: 3.0-5.5VDC
MTK3339 Operating current: 25mA tracking, 20 mA current absorbed during navigation
Output: NMEA 0183, 9600 baud by default, logic level output 3V, safety input 5V
DGPS/WAAS/EGNOS support
FCC E911 compliance and AGPS support (offline mode: EPO valid up to 14 days)
Up to 210 PRN channels
Interference detection and mitigation
Detection and compensation of multiple paths
Map details :
Weight (excluding battery or holder): 8.5g
Dimensions (without battery and holder): 25.5 mm x 35 mm x 35 mm x 6.5 mm / 1.0" x 1.35" x 0.25".
Product dimensions : 40.0 mm x 25.4 mm
Documentation
Adafruit Ultimate GPS