Adafruit Micro Lipo - charger USB LiIon/LiPoly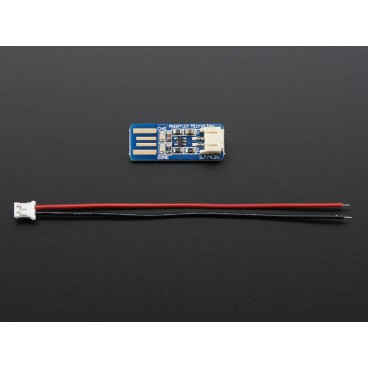 Customers who bought this product also bought:
More info
Description
This small charger will allow you to recharge your batteries polymer Lithium Ion 3, 7V/4, 2V using a simple USB port. The batteries are connected on the Adafruit Micro Lipo with a conecteur JST 2 points. Two LEDS are present, a red that illuminates during the load and a green when the charge is complete, in short, it's easy to use.
The load is done in 3 steps:
step 1: load of preconditioning

step 2: load current constant.

step 3: load at constant voltage to maintain full battery.
The charge current is 100mA by default, which allows to racharger most of the drums on a USB port, but it is possible to mount it to 500mA for the battery accepting this charge current.
Attention: Use this charger with the battery LiIon/LiPoly Adafruit brand. Other batteries may have a charge voltage, a pinout, a polarity or different chemical composition.
Features
Sold assembled, nothing to weld

5V input via a circuit style USB connector

To charge a battery polymer Lithium-Ion/Lithium 3.7 / 4.2V (by old cells 3.6 / 4.1v)

Constant charge current to 100mA, adjustable to 500mA with a simple solder

A cable 2 - pin JST offered!

Dimensions: 30mm x 12.5 mm x 8 mm (1.2in x 0.3in x 0.3in)

Accessories
JST 2 pins hold the steps of 2mm with a length of 100mm.