Light sensor high precision - TSL2591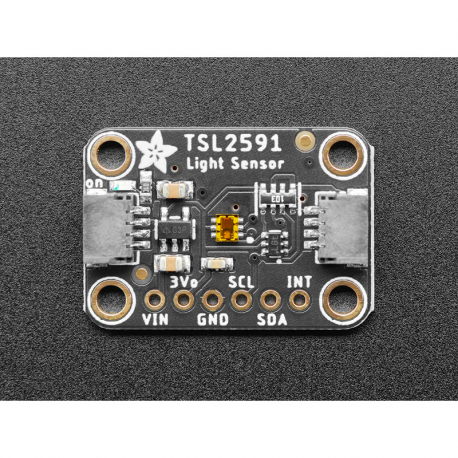 Customers who bought this product also bought:
More info
Description
The TSL2591 is a light sensor high accuracy that will allow you to get a wide range of brightness. It is much more accurate than the LDR or photodiode through a programmable gain and can achieve an accurate measure of 188 µLux to 88000 Lux.
The other advantage of this sensor, it is that it has a sensor of infrared light and a light sensor broadband. This means that you can both measure the intensity of infrared light and also visible light. This sensor has a wide dynamic range with a 600,000,000:1 ratio.
This sensor works only i2C with a fixed address to 0 x 29.
Its consumption is extremely low with 0, 4mA in activity and less than 5µA when it is in sleep mode.
This module has a built-in regulator and an adptation of signals, which allows to use it in 3, 3V or 5V.
This product is sold assembled and tested, with a 1 X 6 not welded header connector.
Features
human eye response close
Wide dynamic range: 1 to 600,000,000
Measuring range: 188 µLux to 88,000 Lux
Operating temperature:-30 to 80 * C
Supply voltage: 3.3 to 5V
Siganl of output: 7-bit I2C with address 0 x 29 (fixed)
Dimensions: 19mm x 16mm x 1 mm /. 75 "x. 63" x. 04 "
Weight: 1.1 g
Documentation