Panel Mount 1/8" (3.5mm) TRS Jack Connector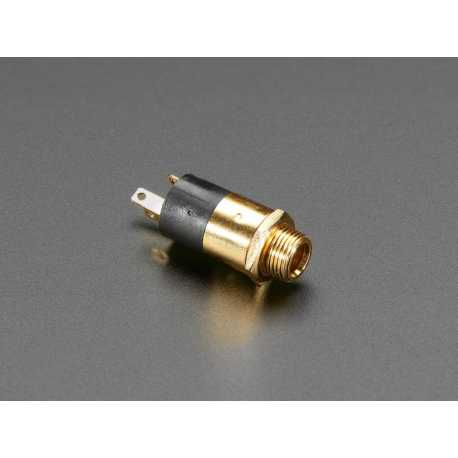 Panel Mount 1/8" (3.5mm) TRS Jack Connector
ADA 3692
data-lang="en">
A 3.5mm Jack TRS connector for mounting on a box or panel.
Customers who bought this product also bought:
More info
Description
What is this TRS bit? Turtle Rock Studios? Transmission of Raman spectroscopy? Not exactly, more like Tip-Ring-Sleeve.

This gold-plated connector is known by many names, phone jack, telephone jack, headphone jack, headphone jack, headphone jack, headphone jack, and so on. Used to transmit stereo audio signals, these connectors are a main support in audio equipment, especially speakers and microphones. For audio, the tip is the left channel, the ring is the right channel and the socket is grounded.

Each jack comes with a thin gold-plated body with three solder contacts and a hexagonal nut for panel mounting.

TRS jack connectors should not only be used for audio! They make large multipurpose connectors where you need 2 or 3 signals and cheap and common cables. For example, in the field of accessibility, they are often used to connect low-voltage switches or actuators.
Features
Approximate dimensions: 7/8" long x 3/8" diameter
Gold plated for superior connection
Ideal for frame or panel mounting
Fits into a 1/4" hole in panels up to 0.075" thick, supplied with a matching hexagonal nut.
Product weight: 2.0g / 0.1oz
Accessories
An adapter jack 3.5 mm 4 pole TRRS to terminal block screw 4 points.

A Jack 3.5 mm TRRS male plug 4-pole to achieve your audio cables...

A cable Audio Jack 3.5 mm Male/female to deport the audio on a boiteir.