Raspberry Pi RTC Module v1.1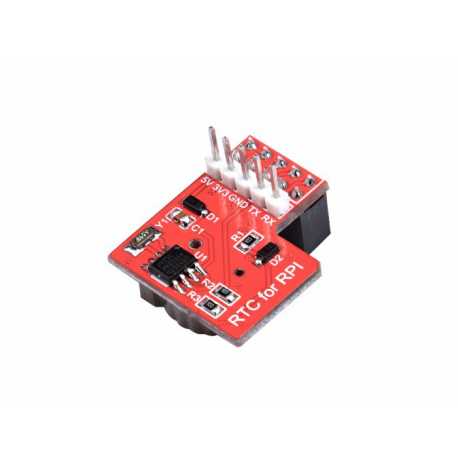 Customers who bought this product also bought:
More info
The RTC module has been specifically designed for the Raspberry Pi. He communicated with Raspberry Pi via the I2C bus. The Maxim DS1307 module requires a CR1220 battery (not included) to maintain real time while the Raspberry Pi is off. To provide a convenient way of debugging, it has been designed with five output pins that are 5v, 3.3v, Rxd, Txd and GND.

Characteristics
DS1307 Maxim Circuit
CR1220 backup battery
Setting a serial port connector
Programmable square wave output signal
Consumes less than 500nA in battery mode
Automatic power failure detection and switching circuit
Programmable square wave output signal
Accuracy ± 2ppm from 0 ° C to + 40 ° C
Rated voltage 5V
Real time clock counts seconds, minutes, hours, day, date, month and year with bearish year - valid up to 2100
Operating temperature from 0°C to + 70°C


Accessories
The new GPIO RaspberryPi extention to connect modules Grove.

CR1220 Lithium 3V button cell battery.

The official camera 8MP V2 infrared for cards Raspberry PI module.