+ GrovePi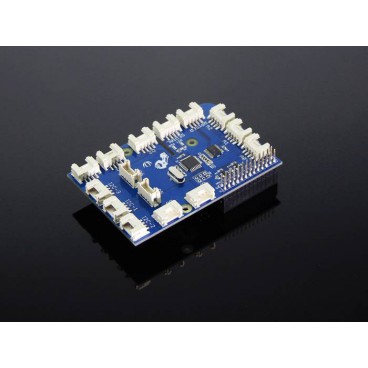 Customers who bought this product also bought:
More info
Description
This extension for rasperryPI connects to the GPIO port and it will allow you to use all of the modules of the Grove family.
The GrovePi card is composed of an ATMEGA328 microcontroller on which most of the Grove modules will be connected. I2C is made the liaison between the ATMEGA328 and Raspberry PI card.
The programming of the card GrovePI is carried out under the Arduino environment and dialogue is effcetue using Python script.
Improvement of the model + GrovePi
Compatible with the model B, A +, B + and FT2 Raspberry
Fast SPI and UART connection improved
Slots for LCD and camera flex cables
Simplified procedures of firmware update
Features
4 Grove I2C port
3 Grove analog ports
7 Grove digital ports
2 Grove serial ports.
Documentation
Domentation GrovePi: http://www.dexterindustries.com/GrovePi