Thumb Joystick PSP 2-axis analogical PSP joystick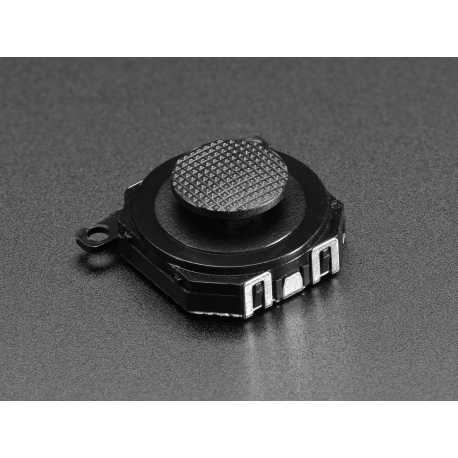 Thumb Joystick PSP 2-axis analogical PSP joystick
ADA 444
data-lang="en">
An analog mini joystick for your portable or e-textile projects.
Customers who bought this product also bought:
More info
Description
Add a tiny joystick to your project with this thumb joystick PSP. It is a replacement component for PSP1000, but we think it will make an excellent little joystick / thumbstick for a portable or e-textile project.

The joystick is of the analogical "self-centering"type. This means that it acts essentially as two 10K potentiometers, one for up/down and one for left/right. Connect a VCC pin to your power supply (3 or 5V) and the ground pin to earth. Then read the remaining two pins with an analog pin. When the joystick is moved, the tension will follow the movement. When you release the joystick, it will refocus. There are 4 tpads to be welded on the back, you can weld 4 wires on these pins, then glue it to avoid any problem.
Features
Interface: Double 10K potentiometer with common ground and power supply
Dimensions: 0.75" x 0.75" x 0.35" (19mm x 19mm x 9mm)
Temperature range: +32°F to +158°F (0°C to +70°C)
Accessories
A Mini Thumbstick 2 axes analog to acquire a shift in X and Y.

A map breakout for the Mini Thumbstick 2 analog axes.