Servo motor a rotation continues - FeeTech FS5103R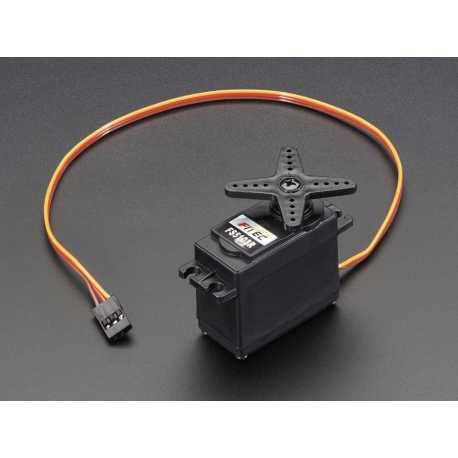 Servo motor a rotation continues - FeeTech FS5103R
ADA 154
data-lang="en">
A Servo Motor has rotating continues to move your robot.
Customers who bought this product also bought:
More info
Description
This servo turns completely forward or backward instead of moving to a position. You can use any code for servo standard, material or library to control these servos. ideal for making simple mobile robots. Comes with four different horns, as shown.
To control with an Arduino, we suggest to connect the control wire to pin 9 or 10 and using the Servo library included with the Arduino IDE. The position "90" (1.5 ms pulse) car to a halt, "180" (2ms pulse) full speed ahead, "0" (1 ms pulse) is full speed backwards.
Features
Operating voltage: 4.8V ~ 6V (5V works best)
Average speed: ~ 0.18sec / 60 °
Couple of stop (4.8V): 3kg.cm/41.74oz.in
Couple of stop (6V): 3.2kg.com/44.52oz.in
Required impulse: 500-2,500
"Cable length: 30cm / 11.8"
"Dimensions: 37mm x 54mm x 20mm / 1.5"x 2.1"x 0.8"
Weight: 40 g

Number of teeth: 25