Adafruit Raspberry Pi Zero Case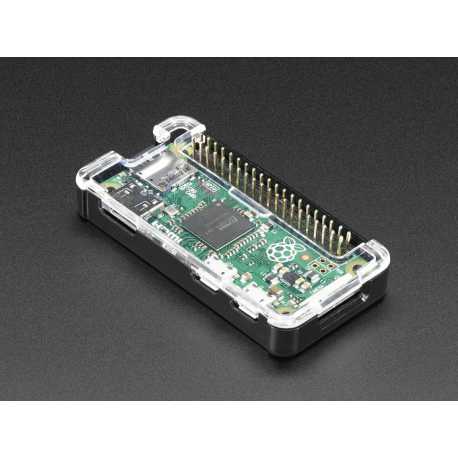 Customers who bought this product also bought:
More info
Description
It is a classic Pi Zero basic case with a black base and a transparent top. The case is as minimalist as it can be, with only two pieces of polycarbonate that fit perfectly into each other. This case will keep your Pi Zero safe while keeping a super elegant look. You can use all the connectors on the edge of the Pi: mini HDMI, microSD slot, microUSB power supply and microUSB port. There is also a cut-out for soldering a 2x20 pin connector to the Pi Zero.

The case was designed by Mike Doell. Made of ultra-sustainable and super-shiny polycarbonate, it's both beautiful and sturdy enough to be thrown into your pocket, book bag or toolbox. It has narrow openings for all your cables, an easy access slot for your Micro SD card, slots for the Pi camera and a space for your GPIO cable to extend from the Pi.

The Pi is nicely installed in the base, hanging on the corner pegs, and the lid fits snugly over the top. If you want to expand your Pi, you can simply open the GPIO slot and add pHAT, covers, GPIO cables and other accessories with ease.

This box is only compatible with the Raspberry Pi Zero and Pi Zero W! It works with Zero versions 1.2 and 1.3 with camera connector and Pi Zero W

This product comes with 2 polycarbonate parts. The Raspberry Pi Zero computer is not included. No other cables, connectors or accessories are included!
Features
Product Dimensions: 70.0mm x 35.0mm x 13.0mm / 2.8" x 1.4" x 0.5"
Product Weight: 13.9g / 0.5oz