Passive PoE injection cables Pack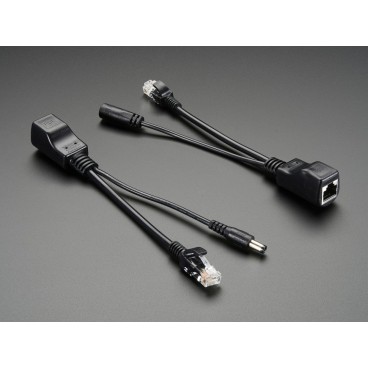 Passive PoE injection cables Pack
ADA 435
data-lang="en">
A lot of cable allowing an injection and extraction on the principle of the PoE Ethernet.
Customers who bought this product also bought:
More info
Description
Simplify your IoT project with this pack of PoE injection cables! They are very convenient for your project with an Ethernet connection and require a power supply. You already have a long Ethernet connection and you want to implement a PoE power, but the wiring is quite complex. There is a PoE (Power over Ethernet) standard that enables a 48VDC through unused pins (4.5 and 7.8) diet, but PoE is expensive, and requires a special router and a converter to lower the tension of 48VDC.
For DIY projects, you can use these two cables. The first cable, injector, willing to a RJ45 connector (male and female) and a power Jack DC Power 2.1 mm PIN. When you connect on a diet, as a power supply 9VDC, the injector will distribute mass on pins 4 and 5 and the positive voltage on pins 7 and 8 of the RJ45. The second cable, the extractor, will play the opposite role and redistribute the tension on the Jack DC Power 2.1 mm plug.
Attention, it is not an official cable PoE, so do not use it with modules requiring standard PoE of the 48VDC, otherwise, it won't work.
Careful with the length of Ethernet cable, it may act in resistance past 10 m. Most of the Ethernet cables are 24AWG with a resistant of 0.085 ohm/m which means that you can lose up to 1V per 25 m.
As the pines 4.5 and 7.8 are used, you will not be able to use these cables with Giga-Ethernet devices, only for the 10/100 Mbps device.
Accessories
The block area ideal to power your Arduino board via the DC Power Connector.

An ethernet cable of 3 m in length.

FeatherWing card to add Ethernet connectivity to your Feather card