Mini Flexible Wireless 2.4 GHz antennas with connector uFL 100 mm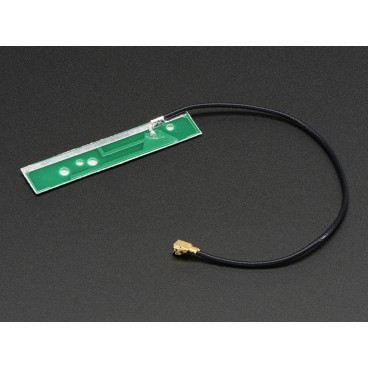 Mini Flexible Wireless 2.4 GHz antennas with connector uFL 100 mm
ADA 2308
data-lang="en">
A mini WiFi antenna with connector uFL.
Customers who bought this product also bought:
More info
Description
This flexible antenna WiFi 2, 4 GHz to 100mm with connector uFL has a gain of 4dBi with an impedance of 50 ohms and works with all transmitters/transmitters WiFi prafaitement.
It has a connector uFL (u.FL / IPX / IPEX) ideal for connect on most of the WiFi circuits.
Features
Operating range: 2400 ~ 2500 MHz / 4900 ~ 5900 MHz

Efficiency: 90%

Bandwidth (ROS: 2.0 max.) 140 MHz / ROS < 2.0

Polarization: linear

Radiation: Omni-directional

Antenna gain: 4dBi

Impedance: 50 ohm

Cable: 100mm / 4 "long

Antenna: 40mm x 8mm / 1.6 "x 0.3"

Weight: 0.7 g
Accessories
A small card compatible Arduino M0 dedicated to IoT with its Wifi ATSAMD21 connectivity.