Sensor of UV index, infrared, and visible light SI1145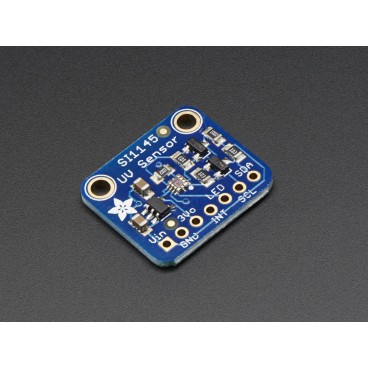 Sensor of UV index, infrared, and visible light SI1145
ADA 1777
data-lang="en">
A sensor I2C of UV index to know the strength of the Sun.
Estimation de livraison entre le 04/10/2022 et le 06/10/2022
Colissimo Domicile - sans signature

A partir de: 5,45 €
Customers who bought this product also bought:
More info
Description
The SI1145 is a sensor from SiLabs with a cablibre algorithm which measures a UV index. This circuit works in i2C which allows to work with most of the microcontroller. The sensor has individual sensors to measure the infra-red and visible light, which can be useful and even if it is less accurate than the TSL2561 to measure the Lux. If you are experienced in soldering, you can even add a Infrared LED on the pine LED to use in proximity sensor.
This module has a built-in regulator and an adptation of signals, which allows to use it in 3, 3V or 5V.
This product is sold assembled and tested, with a 1 X 8 non welded header connector.
Features
Infrared sensor: Wavelength: 550nm-1000nm (800-centric)

Visible light sensor:

Wavelength

: 400nm-800nm (530-centric)

Power supply: 3-5VDC

Output Siganle: I2C with address 0 x 60 (7-bit)

Operating temperature:-40 ° C ~ 85 ° C

Dimensions:

20mm x 18mm x 2mm / 0.8 "x 0.7" x 0.08 "

Weight: 1.4 g
Documentation
Tutorial: Adafruit SI1145 Breakout Board - UV / IR / Visible Sensor