LED 1 Watt Cool white - Mounted heatsink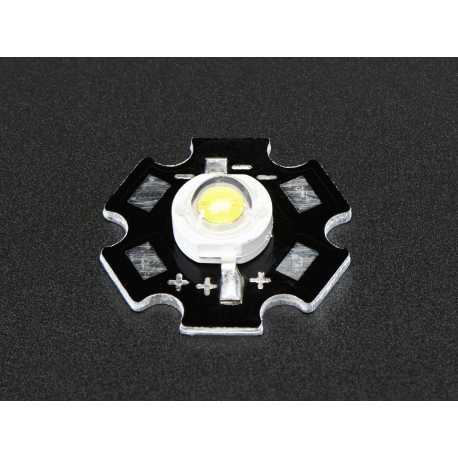 Customers who bought this product also bought:
More info
Description
Make your own a flashlight 1 Watt or a projector with this ultra-lumineuse LED. The LED is very bright, with 90 Lumens in a lambertien pattern of 140 degrees. Compared to most of the LED, you would say that it is 30 000 millicandela. Whatever it is, it's incredibly brilliant! The output is a white ' cool' 6000K, not a 'hot' white incandescent.
The LED is mounted on a PCB aluminum as a radiator, and also facilitates welding. Simply connect to the large terminals + and _ to the PCB (there are two).
The best way to control these LEDs is a constant current, at 350 my. To approximately 3V LED consumes ~ 200 mA, connect so two alkaline batteries directly without resistance for a brilliant lamp base. You can also try to steer it directly with a 3.3V supply, this work probably as well (even if it's not ideal).
Characteristics
See Datasheet