KA75330 3.3V voltage controller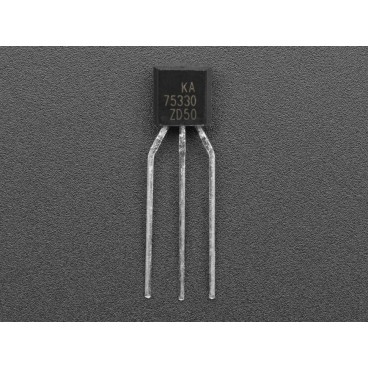 KA75330 3.3V voltage controller
ADA 3428
data-lang="en">
A DC voltage to activate or disable mounting desous of 3, 3V.
Customers who bought this product also bought:
More info
Description
A voltage detector is useful for projects where you want to make sure that your microcontroller does not work at low voltage. For example, let's say you have a Feather Huzzah a lipoly battery operated every few minutes. Finally, battery down, and goes below 3.3 V, so the ESP8266 core voltage is too low, and could cause a locking or corrupted data. Or maybe your battery is already emptied and you try to recharge it, but as you try to charge the Huzzah turns on and the current peak drains the battery immediately so that it never passes through the unloading stage.
This small chip is a simple solution: it monitors the voltage on an input pin, and when this voltage is lower than 3.3 V, she switches the output to ground PIN. If you connect this output pin to Enable pin on the map Feather, she will ensure that the Huzzah does not work if the battery dips too low.
The KA75330 begins to operate at voltages also bass 0.8V, it will be the first thing in your timeline that starts. This little help can really facilitate the start-up of power problems! Works best with microcontrollers and cards that have a spindle of activation Enable that is normally active at high to enable the function, and inactive state at the mass.
This controller requires at least 2 capacitor 2, 2uF for the input and output in order to increase stability, just to make sure that your diet already has these.
Features
Size: 19.0 mm x 4.6 mm x 3.5 mm / 0.7 "x 0.2" x 0.1 "
Weight: 0.2 g / 0.0 oz