NeoPixel FeatherWing - 4 x 8 RGB LEDS for cards Feather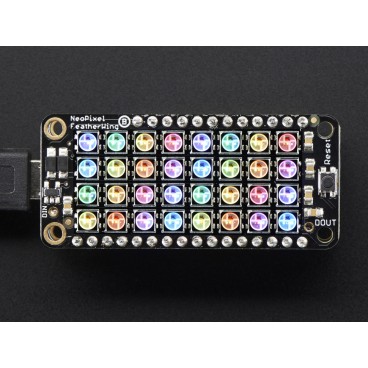 Customers who bought this product also bought:
More info
Description
don't map Feather without ambition, it's a Feather without FeatherWing card! NeoPixel FeatherWing will add a matrix 4 X 8 LED RGB NePixel on any card Feather. Using stackable Feather or female connectors connectors, you can connect a FeatherWing Feather card and take flight.
Remember to put sunglasses with this FeatherWing, 32 RGB LED will put you in the eyes. Arranged in 4 X 8 matrix, each RGB LEd can be controlled independently. And only a pin is needed to control the whole of the LED. On the back of the card binding DIN can be connected easily any pin of the card by a jumper system (cutting and welding).
To facilitate its use, the card is powered by the USB port on the Feather or with with an external power supply, 2 Schottky diodes allow to switch between power and the other autoatiquement. Consumption level, it takes 1 has current constant with peaks at 2 A.
A voltage converter allows to adapt the 3, 3V 5V from the DIN of the Neopixels binding level Feather card. If this matrix is too small, you can chain several linking the DOUT of the first in the DIN of the next.
Features
Dimensions: 50.8 mm x 22.9 mm x 2.7 mm / 2 "x 0.9" x 0.1 "

Weight: 5.2 g