Mini spy Camera with trigger for photo and video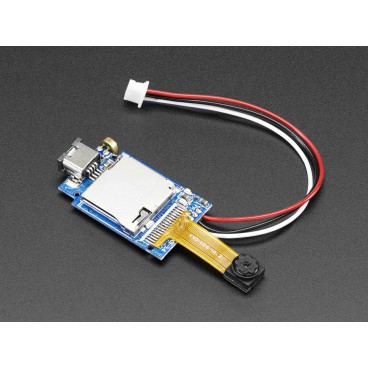 Customers who bought this product also bought:
More info
Description
Your House is haunted? Or, even better, you're convinced your House is haunted, but you do not have the possibility to prove without a small camera that ghosts might not notice it? Then, where you want to mount a camera on your cat to observe his day. Alternatively, you want to make your day time-lapse images. This camera was made for you!
This mini camera is so small that an inch and she has a pretty good resolution to see people, ghosts and others. The camera has ' a resolution is 1080 p in photo mode and 720 p video mode, its control measure 1 inch square and has a microSD slot. The camera is as small as that of a laptop with a dimensiond telephoen e 6.2 mm x 6.2 mm and has a self-adhesive party to choose to attach it to a location of your choice. It has a LED power supply presence and another activity.
We have no real Datasheet for this product, but it must be part of the spy mini-camera in keychain. But it isn't very complicated to use. Feed module between 3, 7V and 5V on the Red wire, connect the black wire to GND. Then use the white wire to control the camera. When it is connected to GND less than 30 s, the module will take a photo and store it on the microSD card in a file alland of PIC000.jpg up to PIC999.jpg .the lED red goes popping a shot. If the white wire touches the GND for more than 500ms, the module will start to record video and audio, activity LED will light up continuously, and should link the trigger to GND than 500ms to stop recording.
What we love with this module, it's simplicity and its good quality. Even better, there is no entry in overlay on the shots. And it is very simple to fly with an Arduino board to achieve of stime lapse or to equip a robot. Note that the quality of the built-in mic is bad enough.
Level taken views, the module ets able to make images at 1280 x 960 pixel s and vdeo in 720 x 480. The microSD slot accepts microSD and HC microSD cards. sold with its USB cable to power it and transfer the data as on a USB key.
Features
Photo format: JPEG
Photo resolution: 1280 × 960
Video format: AVI
Video resolution: 720 x 480
MicroSD maximum support: 32G
Power supply: 3.7V ~ 5V, can be directly connected to a lithium battery
Standby current: 80mA
Operating current: 110mA
PCB dimensions: 28.5 mm x 17 mm x 4.2 mm
Camera dimensions: 6.2 x 6.2 x 4.4 mm mm mm
USB cable length: 508mm / 20 "
Total weight: 2.8 g / 0.1 oz
Accessories
This camera with interface series standard Grove is ideal for Arduino.

The official camera 8MP V2 infrared for cards Raspberry PI module.