ATX Breakout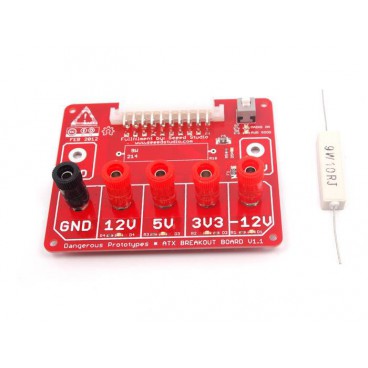 Customers who bought this product also bought:
More info
Description
This ATX Breakout card will allow you to recyler an ATX mains in a mains multi-voltage for your DIY projects.
This card allows to simply have the various present on the ATX power supply voltage:-12V, 3, 3V, 5V, and 12V on the screw terminals that can also receive in 4 mm cords.
Each output is protected by a Resettable fuse 1, 25A.
The output voltages will allow you to power most electronic assemblies with the - 12V often necessary for assemblies using operational amplifiers.
Features
Output voltage:-12V, 3, 3V, 5V, 12V up to 1.25 A
Outputs protected by Resettable fuse 1.25 has
A LED indicates the presence of tension on each output
A LED indicates the presence of general food and the good focntionnement
Switch voltage (control of the ATX power supply)
A load resistance is provided but not welded
The load resistance is sometimes necessary with some ATX alimenattion for proper operation.
Documentation
http://dangerousprototypes.com/docs/ATX_Breakout_Board?
Recommendation
Attention, to use this card you must have taken all the precautions against electric risks, the ATX is powered by 220V alimenattion, you must make sure it works and do not touch the mounting when using.

We also recommend that you use the protection for the ATX Breakout box.