USB C Jack to Micro USB Jack Round Panel Mount Adapter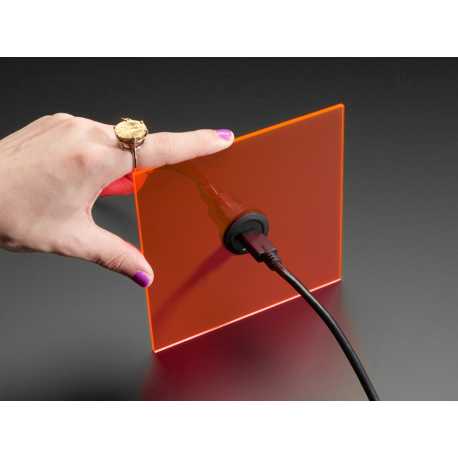 USB C Jack to Micro USB Jack Round Panel Mount Adapter
ADA 4260
data-lang="en">
A USB-C Micro-USB connector passes through a partition with a round hole.
Customers who bought this product also bought:
More info
If you need to add a panel mounting connection for USB C, but don't have the time or tools to cut a custom oval or square hole, this USB C to USB Micro B round plug for panel mounting is the easiest and fastest way to turn your project into a panel. Its diameter is about 30 mm, so you can drill a hole in your wood, plastic or metal with a hole saw or drill bit, no special shape or file is required. Unscrew the plastic nut, insert the plug and replace it. Ta-da! Now you have a USB C to USB Micro B adapter!
On the'outside' side is a USB C connection. Inside is a micro B connection. So it's a good solution when your device doesn't need more USB 2.0 speeds and you want to use a flexible micro-B USB cable for internal connection but want to expose a USB C port. If you have a USB host device, check this USB C to USB A adapter for host panel mounting.
It is designed to easily attach to a panel up to 16 mm (or 0.625 in.) thick, or as thin as a few mm. Perfect for adding a USB C port to your project box! We particularly like this cap for its solid body and its "indulgent" plastic lip that hides the drill hole.
Features and characteristics
Total length: about 33mm
Diameter: 30mm