Small Light valve has liquid crystal - black Control Panel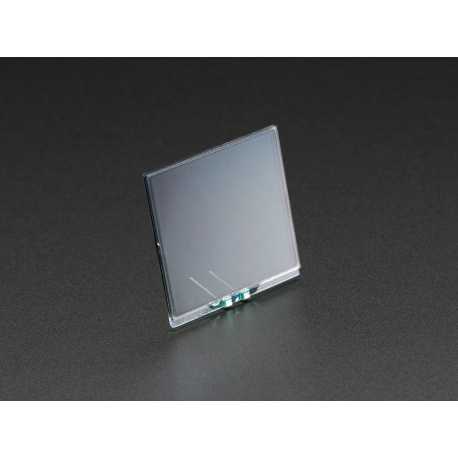 Small Light valve has liquid crystal - black Control Panel
ADA 3627
data-lang="en">
A small crystals light valve liquid to darken your vision or hiding something.
Customers who bought this product also bought:
More info
Description
Is that what you get when you feed a layer of material in liquid crystals sandwiched between two sheets of glass? A light Valve has liquid crystal (a.k.a black Control Panel). They are often used for electric welding helmets, because they protect the eyes from the bright sparks welder. Or - if you're not a welder - they can be used to provide a "significant" effect for your project, because you can control the opacity of the LCD screen.
A valve liquid crystal (LCLV) is a device that uses the properties of the liquid crystals to control the level of illumination through an optical system. This is essentially what is happening in your LCD monitor / TV / projector etc, but for each individual pixel.
In this product, we have a huge LCD piece, which will filter what you can see through it. Normally, its color is a gray hue (because the light around us is not polarized, it is not completely clear). There are two sets of electrodes, left and right. The two pins closest to each other (on the edges) are the same electrode, and the LCD is symmetrical so you can use either a positive / negative.
By changing the voltage applied, it will block the light more. From approximately 1.0 V DC, the glass begins to darken. At about 4, 0V glass will be opaque. 5V is the recommended maximum voltage. Between you will get darker hues. Note that it is not able to block 100% of the light, but about 95%. If you put a light source behind you, you'll see a little light!
Almost no current is used and a LCD screen, activated with tension, will remain at this level of darkness even if the power is removed. So if you want to turn on and turn off, you will need to drive it with a signal 0V to "open" it, or connect a resistor between two pins when it is not powered.
Beware this is a thin piece of glass, you cannot fold it and it's very delicate! So be careful when working with this product.
Features
Outline size:

31 x 33 x 2 mm

Display area:

36 x 36 mm

Conductivity voltage: 3-5.0V
Display type: TN, transmissive, positive
Operating temperature:-10 ° to 60 °
"The product dimensions:

36.0mm x 36.0mm x 1.8mm / 1.4" x 1.4" x 0.1"

Product weight:

5.2g / 0.2oz