USB-A Female Socket to 5-pin Terminal Block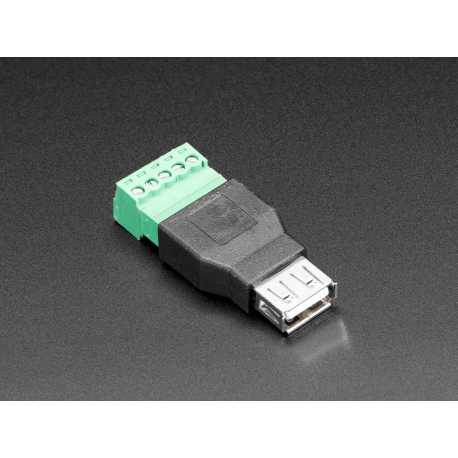 USB-A Female Socket to 5-pin Terminal Block
ADA 3629
data-lang="en">
A USB A Female to 5-point screw terminal block.
Customers who bought this product also bought:
More info
Description
This is a USB-A female connector to 5-pin terminal block. If you need to connect to a device with a USB plug, maybe make your own USB stick or a custom cable - this adapter will be very handy! No welding required. Simply use a small screwdriver to open the terminal blocks, slide the stranded or solid core cable and tighten.

The terminal block is removable from the body. It's more durable than soldering wires to a connector and all the pins are labeled, which is really good because we always forget about the broaching. The 5th pin is for shielding the connector.
Features
Terminal Block Pitch: 5mm
Product Dimensions: 50.0mm x 20.0mm x 11.1mm / 2.0" x 0.8" x 0.4"
Product Weight: 12.0g / 0.4oz


Accessories
A Micro USB B Male connector to solder

A USB Type A Male connector to solder

A USB Type A female connector to solder