USB A to USB C Adapter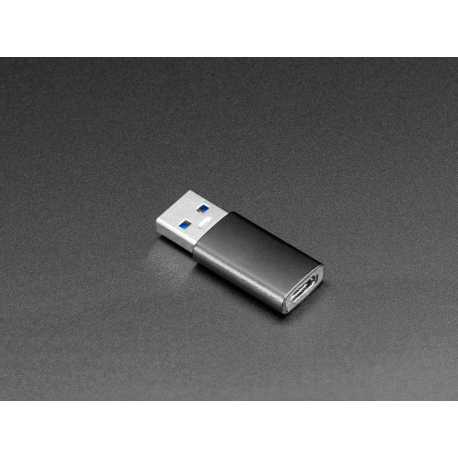 USB A to USB C Adapter
ADA 4175
data-lang="en">
A USB A to USB C adapter.
Customers who bought this product also bought:
More info
As the technology changes and adapts, so does Adafruit, and speaking of adaptation, this adapter has a USB A socket and a USB C socket so that your old computer or laptop can catch up with the latest Type C USB.

USB C is the latest industry standard connector for data and power transmission. Like the Lightning and MagSafe cables, the USB C has no up or down orientation. And which one of us inserted the USB A correctly the first time?

Works very well with any device that has a USB port A and will allow you to connect a USB C cable. Works better with USB 3 ports, since they are faster, but works very well on USB 1 or 2. These adapters do not magically give you USB C speeds if you use a USB 2.x port, and they will not give you power because it has not necessarily been integrated. It is therefore strictly for devices that use 5V and up to 1A

Technical details

Dimensions: 38 x 14 x 14 x 6,8mm
Weight: 6.3g
Accessories
Cable USB type A / B microphone to connect an Arduino Leonardo and USB2Serial

A breakout card for USB C connectors.

A fully reversible 1m USB A to Micro USB cable.