USB C Breakout Board - Downstream Connection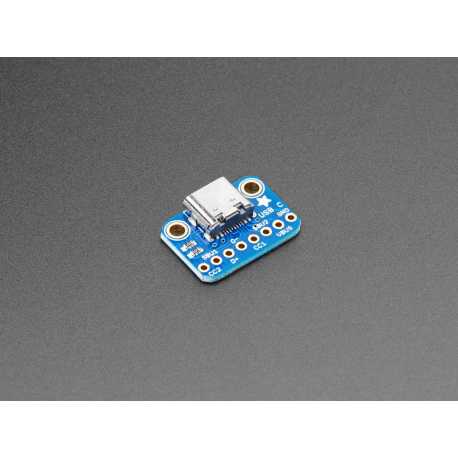 Customers who bought this product also bought:
More info
Throw all the Mini and Micro B USB cables you have in a plastic tray - the next generation of USB connectors is here with USB C! You will start to see these connectors appear on all kinds of devices as the industry moves from the B microphone to the new standard. Well, at least until the next standard is published.

The USB C has a symmetrical/reversible connector, more data pins and a higher current output capacity. This card gives you all the basics you need and a resistance configuration that mimics the classic USB 2.0 for a downstream connection.

The two 5.1K resistors on the DC1 pins tell the upstream port to provide 5V and up to 1.5A (if the upstream can provide a lot of current depends on what you are connected to).

For most applications, you can simply connect VBUS to your 5V input, GND to ground, and D+ and D- as planned. You can monitor the DC and SBU pins to determine the polarity of the cables or send sideband data. Or leave them disconnected

Product dimensions: 20.4 mm x 14.2 mm x 14.2 mm x 5.0 mm / 0.8" x 0.6" x 0.2" x 0.2

Product weight : 1.3g / 0.0oz
Accessories
A micro-USB B breakout card for connect a microcontroller or supply a 5V set-up.