Fully Reversible Pink/Purple USB A to micro B Cable - 1m long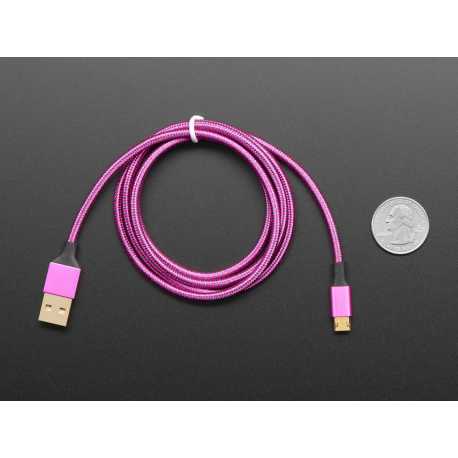 Fully Reversible Pink/Purple USB A to micro B Cable - 1m long
ADA 4111
data-lang="en">
A fully reversible 1m USB A to Micro USB cable.
Customers who bought this product also bought:
More info
This cable is not only super trendy, with a pink and purple woven pattern, it is also completely reversible! That's right, you'll save seconds a day by not having to flip the cable.

First, let's talk about coverage and overmoulding. We've got them in custom colors, and if you need to have visible cables, then you might as well have the most beautiful fabric cable with a catchy python pattern. Perfect for connection to your PyPortal, Playground Express Circuit, Raspberry Pi, CircuitPython, etc.

And, as mentioned, the micro B and USB-A connectors are reversible! We all know the momentary frustration of returning your connector at least twice before plugging it in properly. You will no longer have this extra trouble because no matter how you plug it in, it will be the right way. Unlike some of the reversible USB cables we have tried, this model is robust to use, and does not have a thin piece of plastic that will break on you.

Basically, do you have anything with a microUSB port? It's going to work! In both directions! And it is 1 meter long.

Technical details

Cable diameter: approx. 3.5mm


Accessories
Cable USB type A / B microphone to connect an Arduino Leonardo and USB2Serial

A USB micro B cable with a switch to select the charge or data.

A micro B USB cable that lights up in blue and red.