Pack of 50 Potentiometers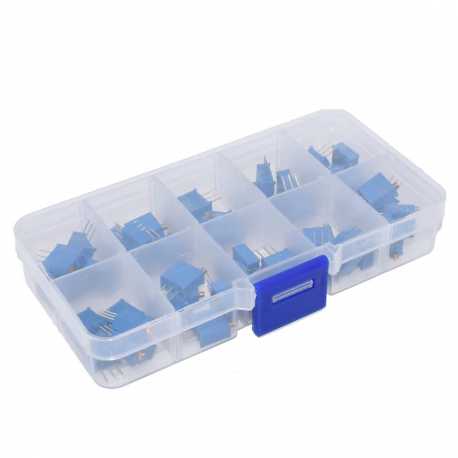 Pack of 50 Potentiometers
SGK-PACK-POTAR
data-lang="en">
A pack of generic potentiometers very practical.
Customers who bought this product also bought:
More info
Description
This pack of 50 generic potentiometers is ideal to complete your DIY components reserve. Stored in a plastic box, you will find the most common potentiometers to meet your needs.
Composition of the pack:
5X 500 ohm
5X 1k ohm
5X 2k ohm
5X 5k ohm
5X 10k ohm
5X 20k ohm
5X 50k ohm
5X 100k ohm
5X 200k ohm
5X 1M ohm
Accessories
Lot of 10 BC547 NPN transistors

Lot of 10 BC557 PNP transistors

A bipolar transistor kit 5 x PN2222 NPN and 5 x PN2907 PNP.