OLED display monochrome 1.3 "128 x 64 graphic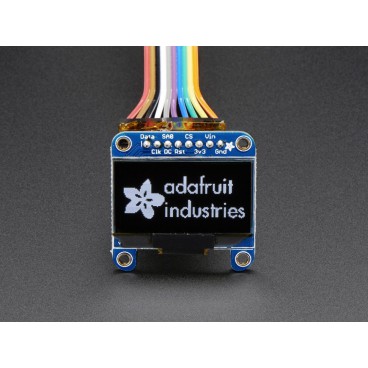 Customers who bought this product also bought:
More info
Description
This screen is very small with a diagonal of 1,3 ", but it ets very readable with comparable to an exceptional contrast OLED technology. The screen is composed of 128 x 64 pixels OLED white on black background, everyone can light independently using the SSD1306 controller. As screen produces its own light with each pixel, it requires no backlight. This reduces total consumption while maintaining an excellent contrast.
The SSD1306 controller can talk two way: I2C or SPI. The display has its own regulator 3, 3V and all signals are adapted in level, that allows it to be compatible 5V and 3, 3V.
Consumption of the screen will depend on the number of lit pixels, but in general, it consumes 40mA under 3, 3V.
Features
Map breakout:
Size: 35mm x 35mm x 5mm / 1.4 "x 1.4" x 0.2 "
Space between mounting holes: 27mm / 1.1 "apart
Mounting holes diameter: 2.5 mm / 0.1 "
Screen: 23mm x 35mm / 0.9 "x 1.4"
weight: 8.5 g

This card uses the address of I2C 7 bit of 0x3C to 0x3D selectable by jumpers
Screen:
screen - size diagonal: 1.30 "
Number of Pixels: 128 × 64
Color: Monochrome (white)
Module Construction: COG
Size of the module (mm):34.50 x 35.00
Size (mm):34.50 x 23.00 x 1.45
Area active (mm):29.420 x 14.70
Pixel pitch (mm):0.23 x 0.23
Size Pixel (mm):0.21 x 0.21
Weight (g):2.18
Duty:1 / 64
Brightness (cd/m2): 100 (Typ) @ 12V
Documentation