Reference voltage LM4040 - 2, 048V and 4, 096V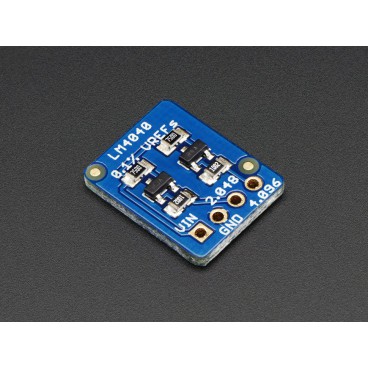 Customers who bought this product also bought:
More info
Description
Is your meter accurate? Or may be looking for precise a voltage reference for your analog-to-digital converter? This module is made for that, with two specific voltage reference. One is 2, 048V (ideal for the system in 3, 3V) and the other is 4, 096V (ideal for the 5V system). The two have a 0.1% e precisiond.
Easy to use, just feed it between 5V and 12V or 3V if you need than the reference in 2, 048V, then the output is ready to be used. It is important to note that it is not a regulator, you can feed anything with the release. It is only a reference voltage to use for measurement.
Features
Size: 16mm x 12.5 mm x 2.5 mm / 0.6 "x 0.5" x 0.1 "

Weight: 0.7 g
Accessories
Converter analog digital 10-bit 8-channel with binding SPI

A digital analog converter 4-way 16-bit with programmable gain.