Terminal Block Breakout FeatherWing Kit for cards Feather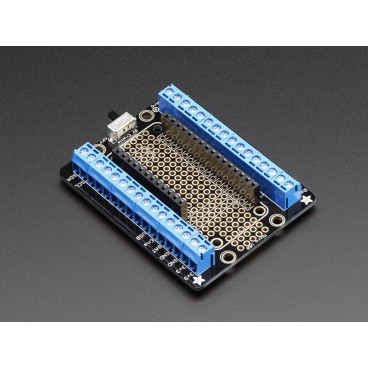 Customers who bought this product also bought:
More info
Description
The Terminal Block Breakout FeatherWing kit will allow you to easily prototype with any card Feather. A prototyping area is located under the Feather card with pellets split for the mass, the + 3, 3V for the SDA/SCL, pines of the Feather card connections have all been routed to Terminal screw and the card has 4 holes.
This kit is compatible all Feather card and the screw terminals are ideal for temporary facilities. The power supply GND and 3, 3V have even been dubbed on the terminals.
Is a space to weld a switch to activate the Enable pin, beware the Feather Fona map uses the tensions Vbat and 3, 3V, therefore it is not possible to turn off this card.
The kit is sold not welded with the circuit board, terminal blocks, connectors and the switch.