Capacitive soil moisture sensor V1.2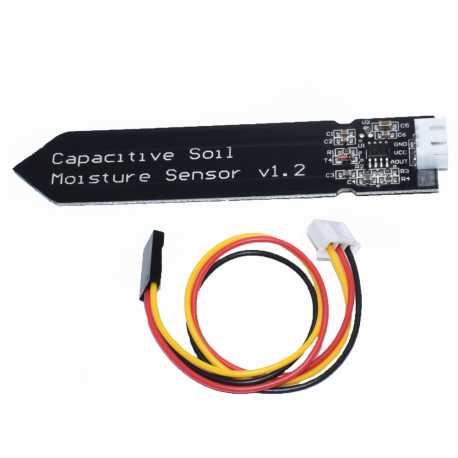 Capacitive soil moisture sensor V1.2
SGK-SENS-002
data-lang="en">
A capacitive soil moisture sensor with analog output.
Customers who bought this product also bought:
More info
This analog capacitive soil moisture sensor measures soil moisture levels by capacitive detection, rather than by resistive detection like other types of moisture sensors.
It is made of a corrosion-resistant material, which gives it a long service life.
Insert it into the ground and get real-time soil moisture data.
This module includes a voltage regulator that allows 3.3 ~ 5.5V operation.

Features :
Analog output
Operating voltage : DC 3.3-5.5V
Output voltage: DC 0-3.0V DC
Interface: PH2.0-3P
Size: 99x16mm/3.9x0.63".
Accessories
This Grove module allows to measure a moisture in the soil.

An I2C capacitive soil moisture sensor