White lozenge Mifare Classic 13.56 MHz RFID NFC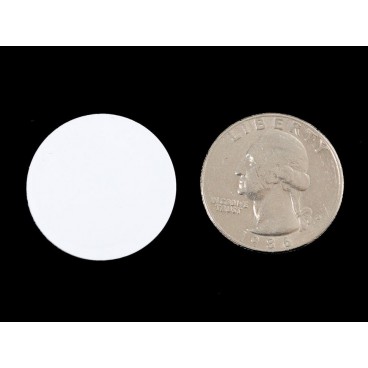 Customers who bought this product also bought:
More info
Descritption
This product is a white lozenge containing a tag RFID NFC Mifare classic 13.56 MHz, this product is often used to achieve identification of clothes in laundries, or another necessiatnt a identification system a small RFID Tag. The tag contains an NXP S50 circuit and an antenna, it is powered by the reader/enregistereur tag as soon as it is placed within a reasonable distance.
This door keys can be read by most of the RFID/NFC 13.56 MHz readers, but be sure that it accepts MiFare products well.
The RFID chip has a 1 EEPROM memory KB it is possible to read and write up to 100000 times, there is also a VAT registration only of 4 bytes which is available in read only.
Features
S50 chip specification:

Permanently EEROM 1 KiloByte (8 KiloBit) memory

Integrated with a 48-bit key encryption engine

Identifying single 4 Byte (read-only)

Frequency 13.56 MHz
Tag specification:
Dimension: diameter 25.4 mm x 1 mm
Weight: 0,9g

Sensing distance: up to 5 cm
Accessories
Shield for Arduino to communicate with NFC technology.