Screw Shield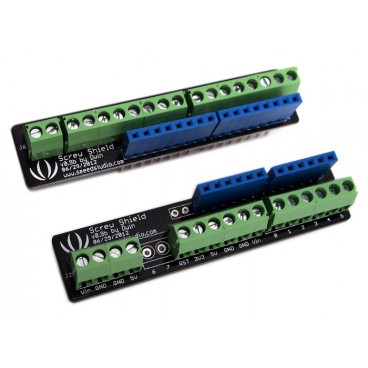 Customers who bought this product also bought:
More info
Description
Screw Shield is the ideal accessory to add connectors to screws on the pins of your Arduino board.
Side pine digital, there are 16 standard terminals and 2 additional GND terminals.
Side pine is analog, it alos 12 standard terminal blocks and 4 additional connectors (WINE, 2 x GND and 5V).
An extension for the SPI connector is also provided to accommodate Screw Shield between an Arduino board and a shield, while retaining the SPI of the ICSP connector functionality.
The Shield Screw does not respect the 1.0 pinout. (only 16 pins side digital and 12 analog side pins)
Accessories
The Arduino UNO card is the best seller from Arduino. Simple, effective and cheap.

This wire dispenser is ideal for prototyping with 6 coils of wire of different colors.