Buzzer Piezo - PS1240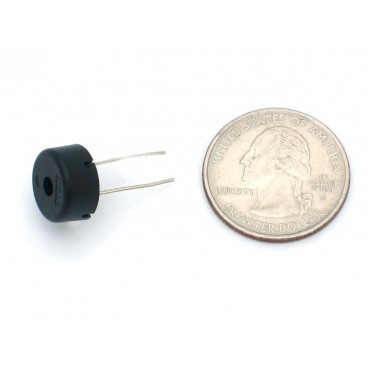 Customers who bought this product also bought:
Sliding scale pricing
| Product | From (qty) | Price |
| --- | --- | --- |
| Buzzer Piezo - PS1240 | 10 | 1,62 € |
More info
Description
The piezo buzzer are often used to make a beep, tones or all out of sounds. It's small but powerful enough to be heard. It can be controlled with a signal square pic of 3V to 30V. For ' use, nothing more simple, just link a pin to ground (GND) and the other to a square wave from a timer or a microcontroller. It beforehand a sound between 2 kHz and 10 kHz, for more sound, it is possible to use two pines of a micro-controller and must in turn reverse the pin that gives mass to the piezo buzzer, the sound will be double.
Carcateristiques
Diameter: 11.90mm/0.47in

height: 6.53mm/0.26in

Weight: 0.70g/0.02oz
Accessories
Piezoelectric diaphragm with diameter 30mm which can be used in shock sensor or buzzer.